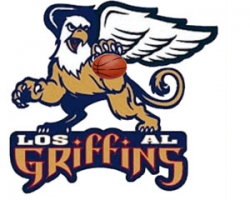 After picking up just one hit over the first five innings Thursday afternoon, Los Alamitos got its bats rolling over the final two frames, but it wasn't enough in a 4-2 road loss to Sunset League rivals Marina.
Each team had just six hits in the contest, as pitching ruled the day for the first three-plus innings with neither team scoring a run. Michael Farris' two-out single to right in the first would prove to be the only base hit.
Farris' hit to right field was followed by Nick Vilter being hit by a pitch. The rally fell short, however, as Farris was cut down trying to steal third to end the threat.
Griffin pitchers Jared Owen and Troy Rallings combined on a one-hitter over the first three innings, Owen striking out a pair in his two innings of work. Rallings gave up a single and a walk in the third but got out of it with a 4-6-3 double play ball.
In the Los Al fourth, Sam Lorenzini picked up a one-out walk but was picked off the bag to keep the game scoreless. Marina got on the board in the bottom of the fourth, using a leadoff double and a one-out bloop single to right to score a run. A runner getting picked off of first and a groundout prevented further damage.
The Vikings scored twice in the fifth off Moises Montes, using another leadoff double, a sacrifice, a passed ball and a solo home run.
Los Al got its bats going in the sixth, getting started with a Russ Mellon single to center. Keeton Quaack then drew a one-out walk. With two gone, Owen slapped a two-strike single to plate Mellon and cut the deficit to 3-1. Quaack and Owen were stranded as the next hitter grounded out to shortstop.
Marina got the run back in the bottom of the inning on a double, a groundout and a wild pitch off Lorenzini. Los Alamitos had its biggest inning offensively to close out the game.
Montes got things started with a single and moved to second on a wild pitch. Farris then came through with his second single of the game to plate the run and cut the deficit back to two.
With one out, Pat Ivison delivered a single and moved to second on the throw to put the pair into scoring position. They would remain there as a strikeout and groundout to first of the next two hitters ended the game.
The squad plays on the road at Capistrano Valley Wednesday in a 5 p.m. game and then returns home to play Tesoro Friday at 5 p.m.