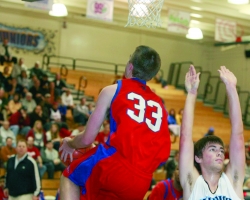 If there is one thing the Griffin Boy's basketball team learned the hard way last week is that defense wins games.
The Griffins allowed 67 points as they fell to a stubborn Marina Vikings team. It was an old-fashioned shoot out for both teams; neglecting defensive stops.
The Griffins led 66-64 with less than 5 seconds on the clock, when Brenden Holmes, the Vikings head coaches' son, sank a 3-pointer with three-seconds remaining on the game clock, stunning the Los Al crowd and jubilating the Viking crowd.
Los Alamitos always has a target on its back and teams tend to step up and play hard against the Griffins and the VIkings did just that. The Vikings set a national record in 2007 that still stands with the most 3-point scores in a single season.
The Griffins knew what the Vikings were capable of and tended to forget about defense and matched them point for point most of the game.
The top scorers for the Griffins were James Duke Walker III (23 points), Captain Jack Haley (15 points), and Camryn Crocker (13 points).
"We can't allow players [Brenden Holmes] to score 30+ points during the game," echoed Coach Cary Kutzke.
As always, the Griffins have a student and community following to their games and the stunning ending left the Vikings in pandaemonium and the Griffins stunned.
"This game will motivate us to continue our goals that we set at the beginning of the year, said Coach Kutzke. "And that's to play hard, play defense, and be in contention for the league title in two more weeks,"
The Griffins begin the second half of league play on Friday, January 29, 7 p.m., at Edison High School. The Griffins are 4-1 in league and 15-6 overall.
The entire Griffin game schedule can be found at www.highschoolsports.net.