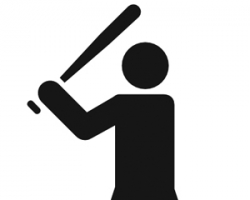 Baseball and barbecue are two American favorites. Combine the pair and you have a nearly unbeatable combination. After a long, cool summer of play, players, parents and fans came out to enjoy a bit of both during a season-ending barbecue July 21. Fans also had a chance to watch Los Alamitos' varsity and JV summer baseball teams close out their seasons on a high note with a 3-1 victory over the Los Alamitos JV. The varsity Griffins end the year at 10-8.
Varsity Coach Aaron Moore used six pitchers to combine on a two-hitter. Brandon Heffern led off the 1:46 game with a walk off varsity pitcher Sam Lorenzini. After Pat Boyker's sacrifice bunt moved Heffern to second, Lorenzini retired the next two hitters to get out of the inning.
A two-out rally in the JV second was highlighted by a walk to Chad Kumabe and Conner Iriye's single. It wasn't to be as the next hitter was retired on a fly to center. The Griffin varsity got on the board in the bottom of the inning. Moises Montes opened the frame with a single off JV pitcher Ryan Cameron, the first of his three hits. A Michael Farris single and walk to Pat Ivison loaded the bases.
Montes was forced out at home on a fielder's choice, which brought Jared Owen aboard. Matt Millar's groundout to first scored Farris but the rally ended as the next hitter popped out to first.
Troy Rallings retired the JV batters in order in the third in his only inning of work. Brandon Reynolds, coming off a four strikeout performance in his previous outing, allowed Dan Austin to reach base on an error but retired the other three hitters he faced to end the fourth.
Frankie Padulo drew a one-out walk in the varsity fourth and came home on a two-out double to center by Montes. Farris drew a walk but the pair were stranded as the next hitter was retired, keeping the score 2-0 varsity … until the top of the fifth. Cody Marshall led off with a walk off Owen and went to second on a wild pitch. With one out, Billy Hainley's single plated Marshall to cut the deficit in half.
Hainley stole second but was forced out at third in place of Brandan Mestrin. Mestrin was stranded as Owen struck out the next two hitters to prevent further damage. After each team went down in order, the varsity Griffins picked up an insurance run in the bottom of the sixth. Andrew Yaz was hit by a pitch while Keeton Quaack drew a walk.
Montes came through with his second RBI double of the game but he and Quaack were stranded as the next hitter was retired. Padulo came on to get the save, retiring the side in order in the seventh.