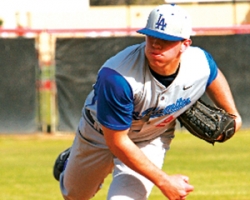 The Los Alamitos Griffins Baseball team lost Friday's league opener against the Huntington Beach Oilers by a score of 5-4.  The Griffin's squandered a lead in the sixth inning and went scoreless in their last at bats giving the Huntington Beach Oilers a victory.
Strong and heavy-handed pitching by Troy Rallings led the Griffins through the fifth inning. In the sixth, the Griffins increased their lead by two more runs.
In the bottom of the sixth inning, relief pitchers Brandon Reynolds and Michael Farris tried to fend off the Oilers momentum and were unable as the Oilers posted four runs and led 5-4 heading into the seventh and final inning.
Both teams were scoreless in the seventh inning with the Oilers defeating the Griffins, 5-4. The Griffins are 2-4 overall.