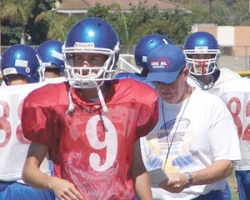 On a Friday night during the last local high school football season, when the Los Alamitos High School Griffins were up against Poly High School's football team, I asked Los Al's Coach John Barnes  when the team would start to prepare for the next football season.
"We will start Monday, weight lifting," he said.
Last Friday afternoon I was talking to Coach Barnes in the Los Alamitos Football coach's office.  With one eye on the clock, Coach Barnes was very enthusiastic about this season.
"I am happy with our spread offense with Dylian Lagarde and we will run with Nick Richardson." At about 3 p.m. Barnes stood up and announced, "Coaches it's time!"
The whistle blew and the team gathered with helmets and shoulder pads around Barnes.
"Offense and defense, let's work on the pass game."
With the snap of the football to quarterback Dylian Lagarde, coverage of the Los Alamitos Griffin High School football team has begun.
Barnes moved right into the middle of play and began verbal coaching. Out in center field (deep safety area) one could hear voice of Coach Jim Van Gorder.
"I want you slapping at that ball all the way back to the huddle," he said,
Last year's defense was rated number one in the league and Coach Van Gorder wants it kept that way.
This portion of the practice seemed to go well. The defensive linebackers were jelling with the defensive backs, and continuous chatter among the defense was an obvious sign of teamwork.
Half time Report: This feature will continue with the Griffin Report this year with a lot of focus on the nation's second rated Los Alamitos Song Girls this year. The band was also having its practice this Friday with the drummers working on their routines.
I caught bandleader Richard Sebastian on the campus; he was riding a cart on campus. Mr. Sebastian was very busy and said, "We will have 90 members this year."
The 130 cheers game cheerleaders will be busy as usual. Jenifer Ramierez, who could not be reached in time for this week's Sun publication, will comment next week on the girl's events. The kick-off for the first game is against Norwalk High School and is on Sept. 3, Friday at 7 p.m. at Long Beach Veterans Stadium.