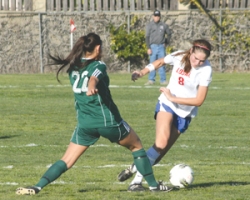 Los Alamitos High's girls soccer team was set up to capture its first Sunset League championship since 2009. The Griffins had a home game with Edison on the final day of the regular season for the title. Their fans were out in force and local television cameras were taping the game for broadcast.
The Griffins dominated the time of possession and kept the Chargers on defense most of the game. But a foul near midfield with about 10 minutes left in the game proved to be devastating for the Griffins.
A free kick from about 40 yards out, sailed over the wall of defenders, and slipped under the top left corner of the goal for what would be the game-winner as the Chargers captured back-to-back league titles with a 2-1 win on Thursday at Laurel School.
In both meetings with Edison this season, the Griffins were the aggressor in pressuring the Chargers. But in both meetings, missed opportunities left the door open for a late Edison attack to take the game away. It left Griffin coach Steve Soler shaking his head.
"We were just all over them … if you don't finish that's frustrating," Soler said.
The Griffins have played strong ball-control offense in several games this season, but it hasn't always translated to explosive offense.
"We don't have a killer instinct," Soler said.
The Griffins had taken the early lead on a goal by Raya Young. The Griffins had moved the ball around in the goal area with passes from Callie Taylor and Lindsey Salcido, to get Young open for the shot.
Her first attempt was stopped, but she controlled the rebound and found the net with the second shot.
Bu the Griffins were caught off guard a few minutes late by another long shot from outside the box.
Edison's Audrey Minar got free at the top of the box and fired a high shot over the defense and under the crossbar to tie the score at 1-1, about 10 minutes into the game.
In the second half, the Griffins had early pressure again, this time with more ball movement in close to set up Young again. Her shot was stopped by the Edison goal keeper and this time there was no rebound. There were other opportunities where a slight hesitation allowed the Edison defense to recover, or shots missed the mark.
The Griffins now head to the CIF-SS playoffs where they will host Mater Dei on Friday at 3 p.m. Soler said that despite the disappointing loss, the Griffins can put it behind them.
 "We start over, that's the great part about it," Soler said.