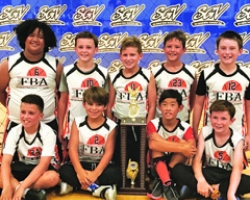 This past weekend, the Fryer Basketball Academy, a 10U-travel basketball team based out of Seal Beach and Los Alamitos won the San Gabriel Valley "Summer Finale" by outscoring its opponents by a combined 202-86 margin while going a perfect 5-0.
The tournament was the largest AAU tournament in Southern California this summer as over 400 total teams participated. The boys were led by Head coach Brian Trevino and Assistant Coach Tom Morales, in addition to a rabid parent and family section that set the tone for the energy and effort that the boys demonstrated in all five games.
The team, which is comprised of players from the Los Alamitos NJB chapter, dominated its opponents in all phases of the game.
In the backcourt, Cyrus Farzad demonstrated a hot hand by draining several 3-pointers; Tony Song hounded the opposition with suffocating defense; Andrew Lonergan hit countless big shots; Luke Thompson started the semi-final game off with a huge 3-pointer; Elijah Webb hit many important shots and played terrific defense; while Matt Leveque made sure the ball was distributed evenly and played tenacious full court defense throughout the entire tournament.
In the front court, cousins Manoa Faupusa and Isaiah Vandermade so dominated the paint that the opposing coach asked to see birth certificates. Wesley Trevino played fantastic on both ends, hit several 3-pointers and initiated many fast breaks, and William Morales provided a front court toughness that emotionally lifted the team to victory.
In addition, to their title this weekend, the boys were also the 3rd-4th grade Champions in Alley Oop over the Winter.