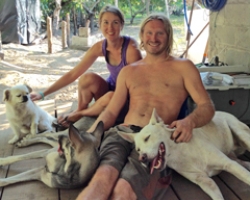 Shane Cianciolo found his purpose with a broken down boat in El Salvador.
The 33-year-old and his wife Rebecca never planned to become missionaries, but after seeing the poverty and need of El Salvadorians, they can't imagine being anywhere else.
Shane is a Seal Beach native, and his dad, Fred, still lives in the same house where Shane lived into his 20s.
"I loved the beach and the freedom it offers for kids," Shane said.
He grew up surfing and skateboarding, and as a young adult, began sailing. After restoring a vessel and adding upfront seating, he started a wine cruise company called Corks Away Wine Adventures. He had big plans for the company, and in 2012, appeared on the TV series Shark Tank. On the show, he and his business partner pitched an idea for an expansion of Corks Away that included a casino and themed ride. Corks Away did not receive the funding they were hoping for, and ultimately, the business fell apart after the Coast Guard changed laws pertaining to upfront seating.
"That really changed the dynamic of what we were doing," Shane said. "I sailed down because the business flopped. I planned to go to Panama, but my boat broke down in El Salvador."
Shane decided to stay. He came back to visit California in 2014, where he met Rebecca Reitmeier at a dog beach in Huntington Beach.
"Once Rebecca got involved, she saw the human need in El Salvador and said yes to going," Shane said. "We got married six months later. It was like, 'Bam! This is what you need to do. Marry her.'"
"I eased into it more and more," Rebecca said of her decision to become a missionary in Central America. "I thought, 'Wow. There is a lot of need.' There was no light bulb moment. I just knew I needed to stay."
Now, the couple has three priorities on the island of Tasajera: building cement tunnel homes, using aquaponics to provide food for the islanders, and teaching classes to children. Their mission is ultimately to improve the lives of the 110 families in their community and help them find purpose.
It started with a man named Roberto.
"He didn't have a home, so we helped build one for his wife and baby," Shane said. "He was the first person I helped on the island."
Roberto's need was a big part of why Shane decided to become a missionary. Since then, Shane and Rebecca have provided roofing for 12 other families and water barrels for 40 families.
"We're going broke doing it, but it felt good," Shane said. "Now it's time for other people to give a little. The people on the island have seen it get worse, but they have hope right now that it will get better. We're asking them to be patient.
Because the El Salvadorian government has restricted the chopping of mangrove trees, the people are unable to build their homes out of wood. This led to the construction of the cement homes. Each home costs $10,000 and takes two months to build. The construction also provides a rare source of employment for islanders.
Commercial fishing took much of the shrimp from around the island, changed the ecosystem, and depleted fish populations. The people there are no longer able to feed themselves with fish alone, which has led to the need for aquaponics systems that use fish and fish waste to grow plants. Shane and Rebecca also help farm fish, which helps avoid further harming the ecosystem. In addition, the couple helps provide a safe and fun culture for the kids on the island with their after-school program.
"We're constantly surrounded by children," Rebecca said. "When we met, Shane said he wanted 20 kids. Now it feels like we have that."
Rebecca explained that El Salvador has a gang culture, where the children can easily be tempted by money that comes from selling drugs.
"We show them another way to make money and find purpose," Rebecca said.
"Most of the kids are 5-13 years old. They're at an impressionable age. Hopefully our impression will help," Rebecca said.
The two teach computer, English, and cooking classes to provide the children with life skills that can help them earn money without becoming involved with drugs. Because there is not much to do on the island, Shane and Rebecca also provide fun chances for play. They have a trampoline that the children love and plan to build a skate park in July.
"We've used our own budget so far," Shane said. "To continue, we need more. We've depleted our savings establishing ourselves and helping two other families. We've provided shelter and plastic for roofing. It's not enough, but it's what we could afford."
Shane and Rebecca have seen people's lives improve in El Salvador, but they've also seen themselves affected.
"They've impacted us, too, truly," Rebecca said.
"We're very thankful to have a purpose," Shane added.
Shane and Rebecca can't imagine leaving El Salvador.
"I've said from the start that it would be hard to run out of money and just leave," Rebecca said. "We don't want to abandon them. That's what happens to a lot of missions trips. You go for a week and feel good about yourself. This is a real life mission trip. We'd hate to abandon them."
"It's very dirty," Shane added. "We're living in the dirt with them."
Shane emphasized that churches need to stay involved with missions projects."Continued involvement is necessary for success," he said. "This helps change lives for the better."
Now, Rebecca and Shane are asking for help as they continue to change lives. They encourage churches and individuals who want to help to get involved with one of the churches on the island. In addition, Shane and Rebecca will be visiting California until June 25 and are available to speak about their missions work. For more information or to help, email Shane at shanecianciolo@gmail.com.