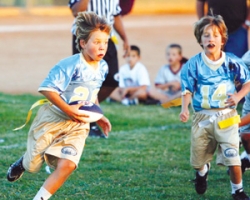 As spectators roam onto the grass at Oak Middle School on any given Friday night they can see dozens of flag football fields layed out for the evenings flag football contests.
There is the sweet smell of the  In-n-Out burger truck and a feeling of home-grown family fun. With 1,408 players registered and 176 teams competing, the school campus has become a "hot spot" of local activity.
Five years ago, the Los Alamitos – Seal Beach Friday Night Lights organization, set up their football fields at Oak Middle School.
Co-founders Mark Broersma and Chris Ketcham, both Rossmoor residents, have had success with their organization because of its excellent partnership with the school district and the city of Los Alamitos.
"All this would not be possible without us working together to make this a great organization," Broersma said.
This year's recent kick-off ceremony was jammed packed with players, fans, coaches, and local dignitaries. Los Alamitos city council members, Dean Zarkos and Troy Edgar, participated in the kick-off ceremony with Edgar firing the starter gun signifying the beginning of FNL's fifth flag-football season.
As you looked around on opening night, every bit of grass area was taken up by cheering fans, video and picture snapping parents, players in just about every color combination jersey and age, and referees dotting every field.  A few anxious coaches were scribbling on their eraser boards, staring at their homemade playbooks, and preparing their team for their first game of the season with some powerful "pump me up" chants and cheers.  There was excitement at each of the 18 fields.
Opening night was jammed packed.  Finding a parking spot became a "lucky find."  Families who knew better not to drive and lived close, trekked onto the Oak fields with wagons, bikes, chairs, and blankets.  Families all had excited players in tow, tossing footballs, practicing plays, and conversations galore everywhere you listened.  Eighteen flag football fields were already filled with games underway and lots of exciting action taking place before the simple, yet gracious, kick-off ceremony began at 5:45 p.m.
Broersma and Ketcham, no doubt, can only be proud of what their vision and combined talents have made FNL in our community.
"We are definitely getting bigger but more importantly its also getting better," Broersma said. "We keep improving the experience and making sure everyone has a great time while letting a bunch of kids experience the game of football."
Broersma continued his passionate response adding, "the game of flag football is a phenomenal game.  It doesn't grind on your body and it's fun.  It's touchdown city, kids love scoring touchdowns and there's lots of touchdowns. Kids love to catch interceptions, and there's lots of interceptions; it's good exercise, it's fun, and you get to come out on a Friday night, play football and get a burger."
FNL has a huge supporting cast of young people that helps out before and after the games.
"Many middle school and high school student-athletes line fields, set out cones and down markers for the mega-field conglomeration," Ketchum said. "These young student-athletes work in the snack shack, as coaches, referees, and help out in a coordinated massive trash pick-up and disposal at the end of each Friday night."
Patrick Sculley, 17, a point guard on the Los Alamitos boy's basketball team, was asked by a parent to coach a team in the FNL league and he obliged.  Sculley, a busy teenager, dedicates an hour and a half each Wednesday night to practice with his team.  Sculley said, "I like giving back to the community and football is fun.  My dad is a Los Al football coach, and I've learned a lot so I can teach it to the kids.  I really like my team and all their funny inside jokes.  This has been a lot of fun already and the season has just started."
Seal Beach's Kelley Hartwyk, has had both her sons, Bradley and Jeffrey, in the league for four seasons. "It's nice because it's one night a week that you can count on, you know its always Friday night, the schedule is not jumping around like it is with baseball and other sports," Hartwyk said, "it's always the same location, so it's 'easy breezy' and the kids have a great time…and there's food so dinner is right here! So, you come here and the kids play a game and you have dinner and you're done.  There's one practice a week and it's a super easy schedule.  We love it."
Christine Berg from Seal Beach has had her sons, Jack and Max Berg, in the league for four seasons.  "They love playing the game," she said. "They love running into their schoolmates and friends from other activities, neighbors, and these are their lifelong friends out here…its good stuff," Berg said.
FNL teams play nine games during an 11-week season.  There is a two-week playoff series to end the season.  For more information on FNL, go to their Web site, www.losalfnl.com