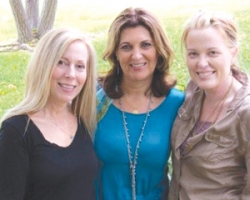 First Team Real Estate has a new marketing campaign focusing on the positive impact First Team agents have made in their clients' lives.  The campaign comes with the announcement by the Orange County Register that First Team was named the favorite real estate firm in that newspaper's 2011 Best of Orange County readers poll.  More than 100,000 consumers voted in the online survey, whose results were released on Sep. 23.
Titled "My Story," the campaign features current and former First Team clients from throughout Southern California recounting how their agents helped them solve problems, overcome challenges and reach personal or professional goals.
One story will be featured each month for a 12-month period.  Aimed at Southern California homebuyers and sellers during a challenging real estate market, the campaign highlights the close relationships between First Team agents and their clients that underlie the agents' ability to anticipate, meet and exceed their clients' needs.
Harnessing the power of a fully integrated marketing campaign, each client story is portrayed in print advertising and on an Internet landing page located at www.FirstTeam.com/MyStory.
Here, visitors can read the full story and watch it in a short, documentary-style video produced by award-winning filmmaker, Tasha Oldham, founder and CEO of the My Story, Inc.
They can also share their own experiences with a First Team agent, which will appear online on the company's Facebook page, blog, Twitter site and other social media platforms.
The first campaign story, which went live on Sep. 23, brings viewers to the Lake Forest house of The Teen Project, Inc., which provides a home, food, college funding and skills for gaining independence to girls recently emancipated from foster care with no home or family to return to.
In 2008, Lauri Burns, founder of The Teen Project, Inc., purchased the home, then a run-down, three-bedroom cottage, with the help of a First Team agent.  Local builders and contractors renovated the home's interior and added three bedrooms at no or reduced cost.  The agent donated $14,000 to purchase furniture for the six remodeled bedrooms.
"The honor of having been named Southern California's favorite real estate company gives us a unique opportunity to show consumers what makes First Team stand apart from all other firms," said Cameron Merage, First Team founder and CEO.  "Our new campaign departs from typical real estate marketing because it does not focus on sales volume or number of transactions, but rather on the relationships between our agents and their clients who work together to achieve milestones for their clients.  As such, the campaign reflects the values and spirit that drive First Team as a family-owned, independent, non-franchised real estate firm born and bred in Orange County.  In this, our 35th anniversary year, we remain deeply committed to the people of Southern California and to our guiding philosophy that real estate is a vocation through which First Team agents strive to bring significant and measurable value to their clients far beyond the mere transaction."