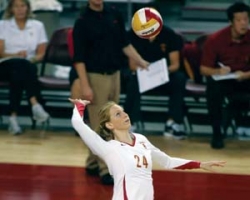 Emilie Stewart, who graduated from Los Al in '06 and just graduated from USC this May left for Europe on Aug. 10 to try out for a professional volleyball team.
The tryouts were in Maribor, Slovenia.
"Professional volleyball is the second most popular sport in Europe, after soccer.," said Nicole Stewart, Emilie's mom.
After five days of tryouts, she  was selected by the Innsbruck, Austria team and just signed a year's contract.
Emilie played on the Los Al volleyball team that won the State Championship her Senior year.
The team won the League Conference,CIF, the Southern Section, and the State in that year, a feat never accomplished at the school.
Emilie received a full scholarship to Fordham University in New York and she played there for two years.  She then transferred to USC and played on the Trojans team for two years. She received the Coach's Trophy in her Junior year.
"It is an interesting story how we as a family moved to the Seal Beach area, Nicole Stewart said. "We lived in Fullerton for 17 years, and Emilie attended Sunny Hills High School. At the end of her Junior year, she announced to us that she wanted to attend Los Alamitos High School for her senior year and hopefully play on the volleyball team.
"Well, to make a long story short, we sold our house in Fullerton and  moved our family to Seal Beach where we lived on Electric Avenue for three years, until we bought a house on 16th.
When a varsity player wants to attend a different HS and transfer, the family and the athletes have to live in that district.
"So we went on this 'journey' for our daughter and we have never looked back," Nicole Stewart said. "We love it here and we  have Emilie to thank for this wonderful adventure.
She loves Innsbruck and says 'the hills are alive with the Sound of Music.'  She has a blog and is documenting her life in Innsbruck."