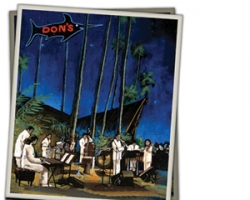 A three-day festival celebrating Exotica Music and tiki cocktails will be held from Wednesday, Dec. 29 to Friday, Dec. 31, at Don the Beachcomber in Huntington Beach.
Dec. 29 will be the "Jazz Sides of Exotica." Dec. 30 will be the "Coronation of the Voodoo Master," including Waitiki 7. New Year's Eve will be about "The New Sounds of Exotica." At midnight, the ballroom will become a full-on tiki dance party.
Tickets to Waitiki are on sale. For more information, call Don the Beachcomber at (562) 592-1321 or visit www.DonTheBeachcomber.com.