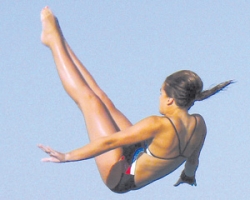 After working through a wrist injury, Los Alamitos High School Senior, Sydney Czaus returned to the pool for Thursday's Sunset League Varsity Diving Finals.
Czaus fulfilled the promise of top divers turning in excellent performances.  In her first day back following her injury, Czaus earned perfect scores on not one, but two of her dives.  In diving, a perfect score of 10 is rare, a diver earning two perfect 10's in one meet is an extraordinary event.
Czaus' first perfect score was on her reverse dive in pike position.  A few dives later, she earned a second perfect ten on her back dive in pike position.
Czaus earned a perfect ten on the same dive at last year's Sunset League Finals.  She went on to finish with 580.70 points close to her record-breaking score of 594.30 earned on March 31.
She was awarded Sunset League Diver of the year for the fourth year and her record-breaking accomplishments were announced to the crowd in commemoration of a stellar high school career.
In the girls, Fountain Valley junior Erica Curry finished second with her personal best score of 415.00 points.  This is also believed to break the Fountain Valley High School record.  Alyssa Robidoux from Marina earned third with 330.00.  Czaus and Curry move on to the CIFSS Division I Championships in Riverside May 12.
Also in his last Sunset League competition, Newport Harbor senior Clay Pinckney earned his third Sunset League title with 588.25 points, close to his Sunset League record of 594.90.  Los Al junior Adam Payne finished second with 463.10 points and Stephan Nissen from Fountain Valley finished third with 269.75.  Like Czaus, Pinckney was announced as Sunset League Diver of the Year for 2011, an honor he's earned all three years he has competed for Newport Harbor in Sunset League.
All three boys and Edison's Joey Grisby all head on to CIFSS Division 1 Championships May 12.
Los Al Sophomores, Jazman Glover and Leigh Hodgson both competed in their first Sunset League Finals.  Both plan to continue training in the off season to move up in the League rankings in 2012.