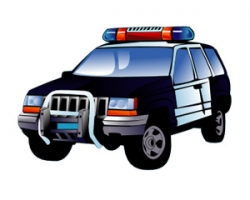 A Seal Beach parent asked police for extra patrol checks after a man asked the citizen's sons if they wanted to "hang out" with him on Thursday morning, June 23.  The caller's sons were 12 and 8 years old.
The Seal Beach Police Department received the call at 9:04 a.m. The caller said a man on a bike approached the caller's sons while they were walking near College Park Drive and Harbard Lane.  The two boys were walking the family dog at the time.
The man asked the boys if they wanted to "hang out" with him.
He was described as a white man, 45 years old, tall, heavy set, with brown hair and a beard, wearing a yellow and blue striped shirt and shorts. The suspect's bike was described as a "really cool" white and blue beach cruiser.
Sgt. Steve Bowles, public information officer for the Seal Beach Police Department, said his advice to parents and children when a situation like this occurs is to get away from the stranger as quickly as possible and to contact the police.
The caller who reported the incident requested extra patrol checks.
SB lifeguards perform 55 rescues in one day

Saturday, June 25 was hectic for Seal Beach lifeguards: they performed 55 rescues and responded to four major medical assistance calls in one day, according to Marine Safety (Lifeguard) Department Chief Joe Bailey.
The rest of the week was also busy. Between June 24 and Thursday, June 30, Seal Beach lifeguards performed a total of 105 rescues for the week, answered 33 medical assist calls of which five were classified as major.
Lifeguards also treated 18 stingray injuries.
Crime Log Compiled by Charles M. Kelly

The crimes listed in the Sun Newspapers were reported to Seal Beach Police Department, Los Alamitos Police Department and Orange County Sheriff Department between June 20 and  July 1, 2011.
Only street names are used; times given are reported times, not incident times.
Crime Log entries are based on preliminary information. Space limitations make it impossible to publish every incident.
Until proven guilty in a court of law, all suspects are considered innocent.
IN SEAL BEACH
Monday, June 20
Disturbance—4:06 p.m.—A Row, Surfside Colony—A lifeguard had a problem with 15 kite surfers who were refusing to leave the water. According to the caller, the kite surfers were not allowed to kite surf at that beach. Police unit 107 met up with the lifeguard on the sand.
The kite surfers ignored units on the beach. One citation was issued.
Tuesday, June 21
Assist Other Agency—9:28 p.m.—1st Street—U.S. Marshals requested two Seal Beach Police officers to assist with an attempt to contact an individual wanted on a probation violation warrant out of Idaho.
Wednesday, June 22
Petty Theft Report—3:07 p.m.—3rd Street—Someone took a Nerve Red Star bike from the caller's side yard. The bike was valued at $360. The  crime apparently occurred between 9 a.m., Saturday, June 18 and 9 a.m., Tuesday, June 21. Report taken.
Thursday, June 23
Counterfeit Bill—8:35 a.m.—Main Street—A business reported receiving a counterfeit bill on Wednesday, June 22.
Bike—4:43 p.m.—1st Street—Someone took the caller's black Elecktra beach cruiser. The bike was locked up at the bike rack on the fifth floor. The crime occurred between 8:30 p.m., Wednesday, June 22, and 3 p.m., Thursday, June 23. The bike was valued at $220.
Friday, June 24
Municipal Code Violation—4:53 p.m.—Main Street—The caller complained about an on-going problem  with a truck delivering this early every Tuesday and Friday.  The caller asked police to contacted the business and issue a warning. Police unit 207 contacted the driver of the delivery truck.
The driver said he would move the truck to the street at a quieter location.
According to the dispatch log, the driver was well aware of the numerous complaints from nearby residents and has advised his company about the problems with the early morning delivery times.
Bees—4:43 p.m.—Ocean Avenue—A citizen reported a swarm of bees on the northeast sign post on the east side of the Pier. The caller said there were thousands of them near the playground. Police unit 107 found a large number of bees attaching themselves to the northeast post. The officer did not know if it was an actual hive. The officer taped off the area and requested Public Works respond. Caution tape was placed around the area. Public Works personnel arrived on the scene. Matter solved.
Saturday, June 25
Traffic Hazard—8:35 p.m.—11th Street and Electric Avenue—Three boys, approximately 9 to 14 years old, were reportedly jumping in front of passing vehicles. Police unit 207 educated the boys about the dangers of sitting and running in the middle of the roadway at dusk. The boys were picked up by their parents.
Sunday, June 26
Dead Animal—11:02 a.m.—Seal Beach Boulevard—The caller reported the remains of a large rat in the number two northbound lane. Referred to Long Beach Animal Care Services.
IN LOS ALAMITOS
Monday, June 20
Identity Theft—3:45 p.m.—Howard Avenue—Someone used a citizen's bank account at a location in another state.
Tuesday, June 21
Commercial Burglary—3:03 p.m.—Cerritos Avenue—Someone took property from a secured storage space. Some of the missing property was located in a different storage space and a suspect was identified.
Wednesday, June 22
Indecent Exposure—9:52 a.m.—Farquhar Avenue—A man exposed himself to a woman. Police arrested a 52-year-old Los Alamitos man for indecent exposure, drinking alcohol in public and failing to register as a sex offender. The suspect was not identified by name in the Los Alamitos Police Department's "Weekly Crime Summary."
Friday, June 24
Disturbance, Family—4:28 a.m.—Green Avenue—The caller said a woman was trying to light clothes on fire. The woman was having a verbal argument with another person. The caller could not see the second person. The clothes were draped over a bush and were now on fire. Report taken.
Thursday, June 23
Suspicious Vehicle—10:33 a.m.—Pine Street—A white Honda parked in front of the caller's residence about 15 minutes earlier.  The driver approached the caller's friends as they left the residence. He said he had a wheel lock and wanted to test it on their vehicle. The caller's mother did not see anyone in the vehicle, which was gone by the time the responding officer arrived.
Saturday, June 25
Possession of a Controlled Substance—9:15 a.m.—Katella Avenue—During a vehicle check, Los Alamitos Police arrested a 49-year-old Downey man for possession of an unspecified controlled substance and drug paraphernalia. The suspect was not identified by name in the Los Alamitos Police Department's "Weekly Crime Summary."
IN ROSSMOOR
Monday, June 27
Suspicious Vehicle—7:44 p.m.—Hedwig Road.
Wednesday, June 29
Vandalism Report—10:36 a.m.—Kensington Road.
Tuesday, June 28
Assist Outside Agency—9:22 a.m.—Weatherby Road—A Rossmoor woman said her husband saw another man take mail from the family mail box. Her husband followed the suspect on his bicycle.
Friday, July 1
Suspicious Person or Circumstances—2:28 a.m.—Foster Road and Coleridge Drive.
IN SUNSET BEACH
Wednesday, June 29
Burglary in Progress—3:56 a.m.—24th Street—This turned out to be a vehicle burglary.
Thursday, June 30
Disturbance, Music or Party—10:19 p.m.—S. Pacific Avenue and 2nd Street.
Shelley Henderson of the News-Enterprise contributed to this article.