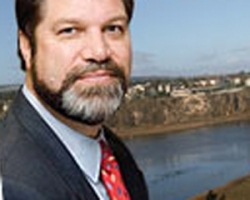 The Orange County Local Agency Formation Commission has issued a report that says merging three Sun Region communities into a single city would save the public a lot of money.
"The Orange County Local Agency Formation Commission (LAFCO) retained an independent consultant, GST Consulting (Orange County), to analyze the benefits of the Super-City idea for Seal Beach, Los Alamitos, and Rossmoor.  As expected, there would be significant financial savings," wrote Orange County Supervisor John Moorlach in a Thursday, Oct. 27 e-mail to his constituents.
The report is not yet available on the LAFCO Web site, according to Moorlach.
LAFCO is a county commission, mandated by state law, that oversees municipal and county border issues, annexations, community mergers and governance. Moorlach, in addition to being a member of the OC Board of Supervisors, is the current chairman of LAFCO. He is one of three supervisors who sits on LAFCO.
Seal Beach Mayor Michael Levitt said he had not seen the report and did not consider LAFCO to be unbiased when producing figures on the subject.
"Iunderstand that The Report shows that $2.8 million of taxpayer's dollars may be saved," said Seal Beach Councilwoman Ellery Deaton.  "Which taxpayers?  Los Alamitos'?  Rossmoors'?  The County's?  Seal Beach has managed its finances well and has so far weathered the storm others have not.  Big government invariably costs more because of larger bureaucracies and less accountability.  Certainly the County suffers from being 'Big Government' compared to our little town.  We will not take on the County's problems and make them ours. "
Moorlach has advocated merging Seal Beach, Los Alamitos and Rossmoor into one city since 2007. Moorlach believes the plan would save money. Deaton believes a super city would negatively impact quality of life.
"Big cities have big problems; small cities have smaller problems.  "
In August 2011, the Seal Beach City Council approved a letter to the Board of Supervisors formally rejecting his proposal.
It is not known when the consultant's report was commissioned. In August, the Sun Newspapers reviewed LAFCO's meeting minutes for all of 2010 and from January to August 2011. There was no mention of hiring a consultant to analyze the financial issues of merging the three communities in any of those documents.
At the time, Moorlach explained the lack of references to the super city proposal in LAFCO minutes by saying "it hasn't been a priority."
In his Oct. 27, 2011 e-mail, Moorlach said the primary goal of LAFCO is to move unincorporated communities into neighboring cities.
State law has a procedure for merging incorporated cities into one entity—something that hasn't happened in California for half a century. By state law, five percent of the registered voters in each of the cities could petition LAFCO to merge the cities. However, it would require a majority vote of the registered voters/property owners in each of the two cities to approve the merger.
In April, the Sun Newspapers asked Moorlach if LAFCO had the authority to impose the merger on the communities of Seal Beach, Los Alamitos and Rossmoor, Moorlach said: "No."
He said that even if the leadership of the three communities agreed, it would have to go to the voters. Seal Beach officials have rejected Moorlach's proposal to merge the three cities. Seal Beach also rejected an independent proposal to merge the Seal Beach Police Department with the Los Alamitos and Cypress police agencies.
At the time, William Chiat, executive director of the California Association of LAFCOs, said that merging two incorporated cities and an unincorporated community into a single unit would be called a reorganization. Merging two incorporated communities would be called a consolidation.
Chiat said he believed the last time a consolidation took place in California was in the 1960s.
"That rarely happens in California," he said.
Developing story.