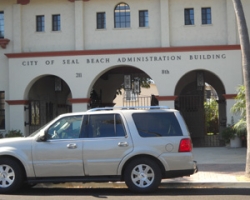 The City Council this Monday approved four contracts with four private companies for parking-related services. The services will include license plate reading equipment, and new meters to replace the existing meters in the Main Street and beach parking lots.
Council members voted 3 to zero to approve the contracts. District Five Councilwoman Sandra Massa-Lavitt was absent and District Councilwoman Ellery Deaton had to leave before the vote because of a personal matter.
This is only the first phase of updating the city's parking program. As the Sun reported in January, the city's parking consultant, Dixon Resources Unlimited, will recommend changes to the Municipal Code.
The decision brings to eight the number of vendors providing parking services and equipment to Seal Beach—seven private companies and the city of Long Beach. If you include the consultant, Dixon Resources Unlimited, it's nine businesses.
Dr. Robert Goldberg, a Bridgeport resident and local activist, expressed concern about being able to coordinate the activites of so many venders during the public comment segment of the meeting and in a Sunday, Feb. 11,  email to city staff.
Seal Beach Police Commander Steve Bowles, said NuPark provided a "one-stop" solution. But according to Bowles, NuPark couldn't perform. "We went with one company and that company failed," he said.
Julie Dixon, president of Dixon Resources Unlimited,  said the eight vendors communicate with each other.
The combined cost of the four contracts is about $291,000, according to the staff report to the council prepared by Seal Beach Police Commander Steve Bowles. According to Bowles' report, there is $582,000 in the Comprehensive Parking Management Plan to cover the costs.
Highlights of the contracts include:
• Passport Parking will provide mobile payment technology.
• PCS Mobile will provide license plate recognition equipment and "services to streamline enforcement," according to the staff report.
• IPS Group will provide single-space smart meters in the Main Street lots.
"In the Main Street lots, the current single-space meters are also outdated and in need of replacement," the staff report said. "They accept only coins, where customers have come to expect payment by credit card, based on their experience in neighboring cities."
• Parkenon, Inc., will provide payment machines in three beach parking lots.
One of the new parking meters will accept bills. However, the city's parking consultant said that it is expensive maintaining machines that accept paper money.
According to Bowles' staff report, the beach parking meters were out of date. "Residents and visitors often complain about the equipment not working properly, and complaints are directed to City staff," the report said.
(Complaints about parking meters used to appear frequently in police logs distributed to local news media.)
According to Bowles' report, the technology upgrades are phase one of a three-phrase "restructuring" of the city's parking program.
"The second phase will include virtual parking: there will no longer be a need for a permit sticker or hang tag, and the license plate acts as the permit and relies on enforcement with LPR (license plate reocgnition)," the report said.
Accoding to Dixon, license plate recognition will eliminate such problems as people erasing chalk on tires. (In 2013, the Sun reported that Seal Beach Police had warned merchants against erasing chalk marks from customers' tires.)
The second phase is also expected to include improving parking signage. "I'm getting a lot of complaints about signage that can't be read," said Deaton.
Dixon said the signage work is in progress.
Deaton said she would like to see signs changed from "beach parking ahead" to "parking ahead." According to Deaton, people who aren't planning to go to the beach might not use parking that they believe is for the beach.
The elimination of physical permits has been a long-standing goal of city officials. Seal Beach staff has been working on modernizing the parking permit and enforcement system since 2015. There was an unsuccessful attempt to have electronic parking permits. In 2016, then-Police Chief Joe Stilinovich told the city council that the vendor of the electronic permits "over-promised and under delivered."
In 2016, Seal Beach Police went to Pompano Beach, Florida and Miami to test the NuPark system, which used license plate recognition to match a plate number to a database.
In other news, the council:
• Unanimously approved a budget amendment of $27,000 for the purchase of a Polaris beach utility vehicle for a total of $27,188.12.
• Took no action on a closed session discussion of labor negotiations with the Police Officers Association  and the Police Management Association.