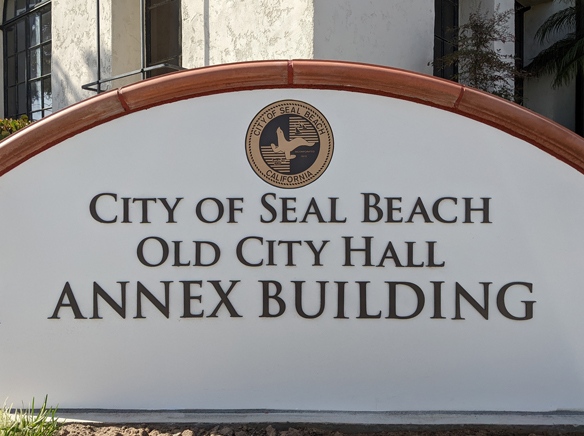 The City Council this week unanimously approved an agreement with the Golden Rain Foundation to apply for money for catch basins in Leisure World.
The money is available from the Orange County Transportation Authority.
This was an item on the Consent Calendar. Consent items are voted on collectively, without discussion, unless pulled for separate consideration and voting.
The council approved this item before District Five Councilman Nathan Steele  and District Three Councilwoman Lisa Landau were sworn to serve their first terms on the council.
However, only city governments can get the money and Leisure World is private property.
"To apply for Tier 1 Grant Program, the applicant must be one of the thirty-five (35) Orange County agencies per the M2 Ordinance, and must fulfill an annual eligibility process. OCTA established this process to ensure improvements are consistent with regional plans. The City of Seal Beach is an eligible applicant for these grant funds," according to the staff report by Public Works Director Iris Lee.
"The City has been successful in securing ECP grant funds in the past, including for the installation of full-capture catch basin inserts throughout the City's Priority Land Use Areas," Lee wrote.
"The next viable set of Priority Land Use Area catch basins is located within Leisure World Seal Beach," Lee wrote.
"On June 13, 2022, the City submitted an application in response to the ECP call for projects for catch basin capture system installation within Leisure World. On November 14, 2022, OCTA awarded the City ECP Tier 1 funding in the amount of $396,000," Lee wrote.
"The total construction cost, including construction contingency and contract inspection, is estimated to be $495,000. The twenty (20) percent minimum matching fund requirement, estimated at $99,000, will be advanced by the City and fully reimbursed by GRF upon Project completion," Lee wrote.
The agreement identified Marsha Gerber as the Golden Rain Foundation's primary representative for the agreement. Gerber is the president of the GRF and a director of Leisure World Mutual 4, according to the Seal Beach Leisure World website.