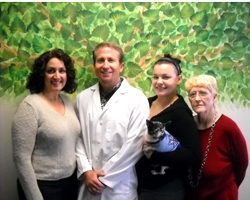 Seal Beach chiropractor Dr. David Vigil said this week that there is no place he'd rather be, or other work he would rather be doing.
Starting with the late Dr. Melissa Rigg, Vigil has practiced chiropractic medicine in the seaside town for the past 25 years.
"I love what I do and Seal Beach has always had a connection for me," he said. "I used to think about retiring early, but now I see myself continuing to work in this field for another 25 years."
However, Vigil didn't start out to become a chiropractor.
"I was studying pre-dentistry and planned to become a dentist," he said. "I started having terrible cluster type headaches every day. I tried taking a lot of aspirin, but it hurt my stomach."
Seeking an alternative, Vigil's mother Gail Vigil suggested he try going to a chiropractor.
"It was in a tiny office in Seal Beach's Leisure World," he said.
"It was like a miracle," Vigil said. "After a few adjustments the headaches stopped."
Although chiropractic medicine at the time was outside the mainstream, the healing experience changed the course of Vigil's life.
"I was convinced this was the work I wanted to do," he said.
Vigil attended Cleveland Chiropractic College in Los Angeles and graduated in 1983.
He has spent most of his time working out of the Seal Beach Chiropractic Center, first at a former location and now at 600 Pacific Coast Highway, not far from the quaint town's Main Street.
Vigil said because over the years he has treated so many local residents in the surrounding community, his has become a familiar face. He said he was not sure how he would feel about becoming so recognizable in the town where he lives and works.
"I actually got used to it and now I enjoy it," he said.
"It makes me feel like I'm home," he said.
Vigil said he has built his business into what he likes to refer to as a "family wellness" center, where multiple generations of the same family can seek treatment together.
"Our office is also a family business," he said. "In fact my mother (who inspired him to enter the chiropractic field) has worked in the office here for the last 20 years."
In addition to what Vigil estimated as many thousands of human patients he has treated over the years, he has also become sort of a Dr. Doolittle of chiropractic medicine. Yes, he gives spinal adjustments to animals including dogs, cats and even adjusted a horse.
"The animals are referred to me by a veterinarian," Vigil said. He and his four-footed patients' owners swear by the treatment.
For example, on Monday, a medium sized, 17-year-old dog named Weta was patiently waiting for Vigil's attention as he caught up on a few two-legged patients.
Now and then Weta would catch a glimpse of Vigil moving from one room to another and slightly whimper in dog talk for the man who seemed to be her hero.
Finally, Vigil visits with the dog. He takes out a hand-held instrument.
He feels the dog's spine and makes some adjustments with the tool and his hands. The dog is somewhat relieved. Then it's time for the doctor to supply a hand delivered treat, much as one might give to a toddler a lollipop for being a good patient.
Weta's master Jimmy Ojeda of East Los Angeles swears by the treatment for his pet. Ojeda said that before the dog came to see Dr. Vigil it could not walk on its hind legs.
"It's skin was all gone back there," Ojeda said.
The family considered having the dog put down. Vigil's office was the last chance for Weta. However, just like Vigil's cluster headaches, chiropractic adjustments seem to be just what Weta needed. The dog on Monday was out of pain and walking, if somewhat gingerly, on all four paws.
Despite his occasional forays into giving animals some care, Dr. Vigil's business remains mostly involved with human patients who have problems with their spine and nervous system.
Chiropractors such as Vigil diagnose and treat common spinal misalignment's that can occur from lifestyle or injuries causing pain, discomfort and degenerative conditions. He may be able to treat back pain, sciatica, neck pain, shoulder pain, headaches, sports injuries and work-related injuries.
Vigil said the treatments can even help people who seem generally well, but need such help as getting their posture straight. Almost anyone can benefit from some chiropractic care, Vigil said.
"I go to a chiropractor in Belmont Shore once a week," Vigil said. "It helps me maintain my health."
Vigil said that in his spare time, he likes to go surfing, work out, lift weights and enjoy life in Seal Beach.
For more information on Dr. David Vigil's chiropractic practice, call (562) 596-1657.