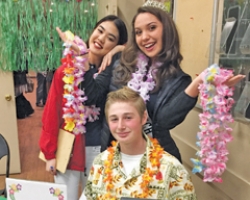 Members and guests of the Seal Beach Chamber donned their best Hawaiian wear Friday night to celebration their annual appreciation night at the Marina Center.
Chamber President Scott Levitt welcomed the group with good news, announcing to the membership that almost $30,000 in sponsorship commitments had already been obtained for the upcoming Car Show and that a "name sponsor" had already been signed for the 2019 show.
The dinner, said Levitt, was "simply to thank all of the members, volunteers and sponsors for making possible all of the events we host for the community."
He said the chamber budget is totally derived from membership dues, fundraising and sponsorships so the Chamber likes to give back to the community.
The event was billed as a "night of appreciation to everyone in Seal Beach that helped to make 2017 a successful year."
Levitt said the Chamber promotes local business and hopes the community will "think local, eat local, shop local and engage in local service providers for all of their needs."