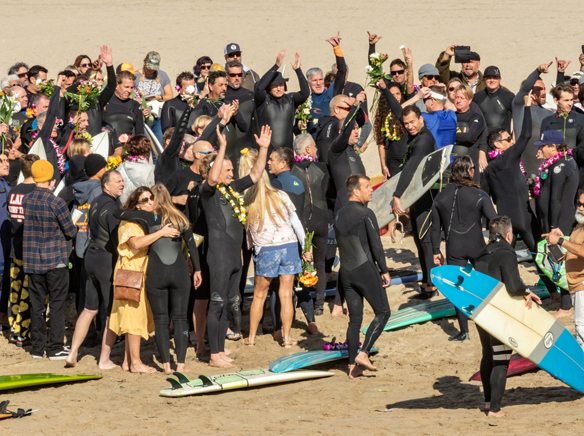 Friends and family of Patrick Kneebone crowded the beach and waters off Seal Beach on Saturday to celebrate his life with a traditional paddle out ceremony. Kneebone died of a heart attack on Jan. 3, at the age of 53.
Participants on surf board, in kayaks and even sheriff boats joined together in the water to form a circle and a heart as onlookers from the pier and beach watched in honor of Kneebone. A local surfer, originally from Long Beach, Kneebone was well known from Long Beach to Huntington Beach and beyond.
He was known to travel the world on surf expeditions and surf with locals. A Facebook page created in his memory drew comments from dozens of people, including a post from Mammoth California, where the poster wrote "RIP Pat" in snow.
Another was a post with a photo of Kneebone in Baja, entitled "Surf Dork." The poster commented; "All-time favorite photo of surf dork. Met you in Baja K74 Angles Camp about 25 years ago. Etched in my minds eye is one of your full eagle flyaways with a huge cresting wave backdrop. So Rad!!"
A video was posted from 2012, in which Kneebone was interviewed after he helped rescue a struggling swimmer from the water in Huntington Beach. Kneebone leaves behind a 14-year-old daughter, Olivia, who participated in the paddle out.