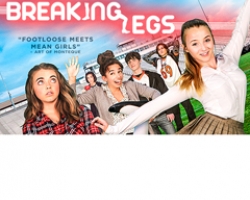 Seal Beach will host the inaugural Seal Beach Film Festival from Friday, July 28 to Sunday, July 30, featuring many short films and activities for all to enjoy at J.H. McGaugh Elementary. With major online success at nearly 50,000 trailer views, the Southern California based UFO Pictures will be showcasing its latest motion picture, "Breaking Legs," on Saturday, July 29, at 2:30 p.m. at the festival. All films will be screened Saturday. Friday opens with a check-in and silent auction. Sunday ends the event with a workshop and awards ceremony.
Released on April 25, with Vision Films and Sony, online, the "…cross between 'Mean Girls' and 'Footloose'" will be one of the feature films of the weekend. The Sun News was able to interview producer Micah Brandt and director Mark Marchillo before the big weekend.
Marchillo's motive to create this film was his passion for dance and for the '80s.
Marchillo wanted to return a sense of nostalgia back to the current times, and he "wanted [his] first feature to be dance." Shot on film, Brandt and Marchillo thought that film gives "a look that is not like anything else" with "a richness that digital can't capture."
Premiered at West Palm Beach, Florida, "Breaking Legs" has traveled all across the continent from Hoboken to Canada. Brandt and Marchillo wanted to continue the their goal of exposing their first premiere, resulting in their journey to Seal Beach.
"Film festivals give people and artists the opportunity to discover creativity themselves and the sense of revival in filmmaking," said Brandt. The pair met at a previous film festival, yet others works restricted them from joining together in making their first feature. The appeal of festivals is that "they give people like us [independent film companies] the opportunity to branch off from [depending] on franchise movies and be creative. As a result, this independence allows us [filmmakers] to establish, build a new audience, while making stories with a human touch that is often lost in modern film."
Both said that as more and more reboots are being released, there is a correlation of film festivals developing to showcase independents, much like Seal Beach. After the Seal Beach Film Festival, the duo hopes to showcase their film at more local festivals. Afterwards, "Breaking Legs" will be available on TV, with COX Networks, with the goal of continuing exposure and to be "the next Sunday film for families to enjoy together" commented Marchillo. The two filmmakers will be at the Seal Beach Film Festival, along with many other upcoming filmmakers. Tickets for the festival start at $8.33 and can be purchased online at the festival's website; veterans and their family and family receive free admission. For more information, visit www.sealbeachfilmfest.com.