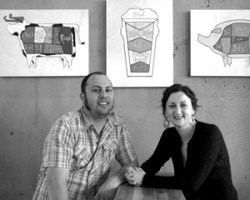 Gabe Gordon's concept for his Beachwood Barbecue on Main Street Seal Beach has had wings since it first opened in December of 2006.
This week, Gordon made the logical move as a businessman and opened his second Beachwood Barbecue restaurant in Long Beach.
By taking this step, he has followed in the shoes of Taco Surf, which started its first restaurant on Seal Beach's Main Street and has gone on to reproduce itself with a string of Taco Surf's spread out between Dana Point and Los Alamitos.
Seal Beach residents flocked to Gordon's restaurant at 131 and a 1/2 Main St. when it first opened. Patrons apparently enjoyed the novelty of Gordon's restaurant, with its exotic barbecue food, and other menu items prepared precisely as Gordon administered and under the menu he designed.
Oh, yes. We would be remiss if we did not mention the great selection of beer on tap and bottled micro brew beer that has been a hallmark of his restaurant from the beginning.
Aside from the marvelous beer selection, when it came to food, Gordon had done his homework.  He had studied under `some of the finest chefs in Los Angeles. If he learned anything, he said, he learned to be passionate about food.
"I was lucky enough to work under some really great chefs," Gordon said. "I learned so much about southern cooking from them and was able to bring that into the style of cooking that I do."
Gordon explained early on when his restaurant first opened that he was concerned about every detail of the food he presented his customers. Even when it came to the lettuce in his salads, Gordon said he has always wanted to feed his customers the best food available.
They say "what goes around, comes around" and with Gordons' strict attention to offering quality food prepared in the style of a master chef…well, it was more like instant karma.
During his first year in business, Gordon's biggest problem was accommodating all the Seal Beach people who wanted to eat at his restaurant.
The restaurant quickly grew a stable of regular local customers who just had to have their share of Beachwood Barbecue food.
After Gordon's first year in business, an opportunity arose in which he was able to take over the unit next to his restaurant. Following a remodel to join the two units as one restaurant, Gordon had doubled or even further more expanded his restaurant's space.`
Still, there were many times when patrons had to wait for a Beachwood Barbecue seat to become available.
Gordon knew his concepts for a Seal Beach restaurant connected with his customers. Patrons continued to fill his restaurant, along with a steady stream of people that lived in the area or worked full time in the seaside town.
Like many other successful young entrepreneurs, Gordon has seen to it that his business dreams do not stagnate. To that end, he was this week scheduled on Tuesday to open his second Beachwood Barbecue in Long Beach.
This one will have the same food that has been the basis of Gordon's success with his location in Seal Beach. The facility will be a bit larger and will encompass a home brewery.
While Gordon has always offered a wide assortment of micro brews, he thought it was time to step that side of his business up a notch. He said he was lucky enough to find someone that was already creating a fine home beer product that will fit in well with everything else the restaurant has to offer.
"I love beer and there is so much good draft beer out there," Gordon said. "Luckily, we were able to find an interesting new and kind of obscure beer with an intense and unique flavor. We have partnered with this local home brewer. We think that adding this to what we offer is a natural way for us to expand on our brand."
Another new twist for the second Beachwood Barbecue will be the addition of live entertainment.
However, Gordon said he is not expecting to bring live music into his second establishment until the regular patronage for the food and brew side of his business in Long Beach is well established.
"We are going to wait and see what the customers want," Gordon said.
Gordon said he does not foresee the responsibilities of his second facility drawing any of the quality away from his first restaurant in Seal Beach. He said he has a good team of employees and the second store will give some of them more positive challenges while creating job opportunities for some new members of his team.
Gordon, who lives in Huntington Beach with his wife Lena Perelman, said he is hopeful that expanding his business ventures will eventually make if financially possible for him to move his home to Seal Beach.
"We just love Seal Beach and we have wanted to be able to buy a home and live there for some time," Gordon said.