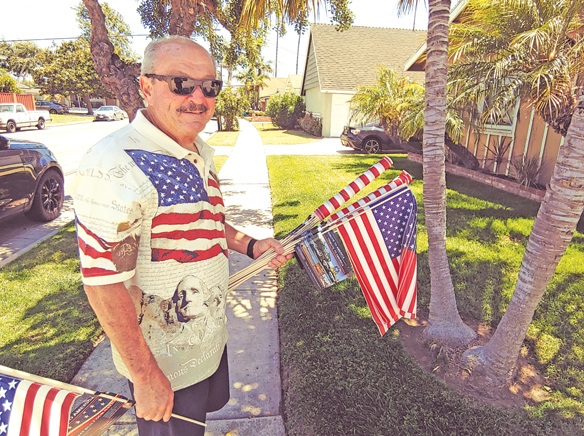 For nearly two decades, local businessman Jim Klisanin has made it his business to ensure Seal Beach was draped in American flags to celebrate Independence Day.
"It's just something I wanted to do," said Klisanin, the founder and owner of Baytown Realty, who started the project approximately 20 years ago.
"I never had the opportunity to serve in the military," he said, but I am very patriotic and love to see the town all dressed up in flags."
Each year, Klisanin buys thousands of U.S. flags and distributes them across the city to residents on key holidays such as Labor Day and Memorial Day.
Klisanin, who remains active in Seal Beach activities, said the city has been very good to him and he truly enjoys a chance to give back.
Along with a weather proof flag, residents get a promotional card that reminds them when to display their flags and other information.
For the July 4th holiday, however, Klisanin not only distributes the flags, but also has certain areas of the city filled with rows of flags for patriotic impact.
In the past few years, Klisanin has accepted the help of Gary Bean, a local resident and friend, in distributing the flags and putting them on display.
Since moving here from northern California, Bean says he has helped Klisanin with the flag project. Since 2012, he took over the job of distributing the flags, putting them up around town, taking them down, etc.
"It's a great project," said Bean, adding that he truly "enjoys the interaction with Seal Beach residents" as he puts out the flags.
Bean said he will distribute over 3,000 flags for this year's Independence Day holiday.