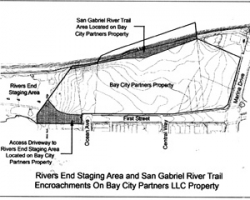 The public has until 5 p.m., Jan. 5, 2012, to comment on the Draft Environmental Impact Report for the Bay City Partners property in Seal Beach.
"The project involves a General Plan Amendment, Zone Change, DWP Specific Plan Amendment, Redevelopment Plan Amendment, a Tentative Tract Map and a Lot Line Adjustment to create 48 single-family lots and a 6.4 acre park on 10.9 acres of land located at the southwest corner of Marina Drive and 1st Street," according to the city of Seal Beach Web site.
The Seal Beach Environmental Quality Control Board will review the report at 6 p.m., Tuesday, Dec. 13.
Comments on the environmental report should be sent to Mark Persico, AICP, Director of Development Services, 211 Eighth Street, Seal Beach, CA 90740.