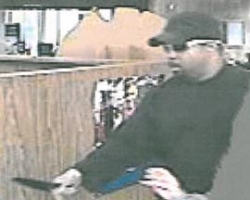 A man brandished a butcher knife as he robbed the US Bank in Los Alamitos on Tuesday morning, June 21. No one was physically injured during the crime.
According to Los Alamitos Police Department, on Tuesday, June 21, at about 9:32 a.m., officers were notified that a robbery alarm had been activated at the US Bank at 10942 Pine St.
According to the Los Alamitos Police Department, a man walked into the bank, demanded money from the employees and displayed a butcher knife to gain compliance.
The employees gave him an unspecified amount of money.
The suspect fled on foot.
Los Alamitos, Seal Beach and Cypress police searched for the suspect. They did not find him.
The suspect was described and can be seen in surveillance photographs as a black man in his 30s, approximately 5 feet 10 inches tall, weighing 200 pounds, with a goatee, wearing a black long sleeve shirt, black pants, sunglasses, a black baseball cap and a black backpack.
The suspect's photograph has been posted on the Web site www.labankrobbers.org, which follows bank robberies and serial bandits in Southern California.
The case is being investigated by the Los Alamitos Police Department and the Federal Bureau of Investigation.  Police are asking anyone with information to call Detective Chris Karrer at (562) 431-2255, extension 473.