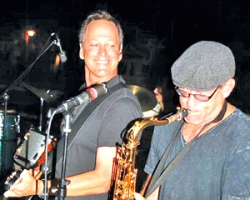 Rosie Ritchie was sitting behind the computer on the desk in her Old Town, Seal Beach office on Monday, preparing for the inaugural Band on the Sand event that will be held today as a pre-Independence Day celebration.
Ritchie was multi-tasking; speaking to a caller about the event while her fingers tapped the computer keys and pounded out a last-minute release for the press. The office was filled in the front with fancily-wrapped gift baskets. In the back room a row of shiny, new beach cruiser bicycles sat in a row, waiting to be raffled off at the affair, which she said seems to be off to a healthy start for only entering its first year.
"We have sold 30 tables, can you believe it?" she said, her eyes beaming as she smiled.
"I'm so excited and I'm so nervous," she said like a successful stage actor who gives their best performance only when they have the jitters during dress rehearsal the night before.
While the tables are paid for, the community is encouraged to join in the fun for free on the sand, using blankets and beach chairs to make themselves comfortable – much like the atmosphere of the Seal Beach free summer concerts that will be held nearby, starting the following Wednesday.
The idea for the event, which Ritchie said she hopes will become a Seal Beach tradition, came from many years of hers' and three other families of Long Beach Firefighters holding a similar affair that eventually grew to fill Veterans Stadium in Long Beach. During its early years, a traveling circus was the opening act to the festivities. Ritchie and her four siblings were enrolled into dressing up as circus clowns and cavorted before the crowd that sometimes surpassed 27,000.
"Although the circus eventually was stopped, the tradition of the clowns went on for many years," Ritchie said.
For an idea that got started not too long ago, with the enthusiasm of The Little Train That Could, which said: "I think I can, I think I can" … Band on the Sand has grown to include a cornucopia of local talent and community participation. It's also a way that Ritchie will honor her father, Long Beach Fireman Ruben Perez, who was the main organizer of the former celebration in that city, until he retired from the department.
Band on the Sand will start at 4 p.m. on the beach, next to the San Gabriel River Jetty, beyond the First Street beach parking lot.
"This is an exciting community event for the whole family with plenty to keep everyone entertained," Ritchie said. "I thought this would be a great opportunity to get some young talent on stage."
Band on the Sand will include entertainment by singers and guitarists Christian Fermin, recently graduated from Los Alamitos High School, and Caitlin Luca, a 2014 Huntington Beach High School graduate, and the award-winning Los Alamitos High School chorus group Cosmix, that includes: Alexia Del Alcazar, Holly Tinturin and Melissa Mckee.
"At 5:30 p.m. we will have the Young Marines, who will lead in the flag salute and National Anthem," Ritchie said. "Our headliner is a terrific local band, King Salmon, that starts at 5:45 p.m., ready to get the crowd out of their seats to dance to some of our favorite covers."
There will also be an opportunity drawing, with more than a dozen variety prize baskets, in addition to seven bikes, each unique, with some for all ages.
Food trucks that will be on hand include: Grilled Cheese truck, SoHo Tacos, StuffNit Burgers, Kona Ice and Dodo Island Creperie.
For some active fun, a Hoola Hoop contest and gunny sack races for children and adults are planned.
To kick off the excitement of the approaching Independence Day on the Fourth of July, a firework display from the Boathouse on the Bay just across the river will be easily viewed beginning at dusk.
Guests are encouraged to begin to bring their blankets and beach chairs starting at 1 p.m. Parking is in the First Street beach lot.
All parking rules apply. Additional parking could be found on the street.