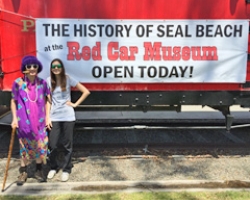 The 45th Anniversary Celebration of the Seal Beach Historical Society's founding of the RED CAR MUSEUM, is happening, Saturday, Aug. 27!  Don't miss it!!  Monique Atwood, the new president of the Historical Society, will be on hand to greet you and take you on a tour of this beloved treasure in Seal Beach!  She assumed leadership in 2016, taking over the reins from her grandparents, Charles and Marie Antos.  Monique soon will receive her master's in Library Science and loves her duties as the head of this one-of-a-kind unique venue.
The Red Car Museum was originally saved, restored and established by a group of Seal Beach citizens. Virginia Hadley, Edie Hall and Barbara Rountree were among the proud volunteers spearheading this project.
Please come and enjoy this once in a lifetime event and tell everyone Aunt Gertie sent you!
Karen Hadley, creator of Aunt Gertie, can be reached by email at Yodelon@aol.com or www.facebook.com/karen.hadley.39.