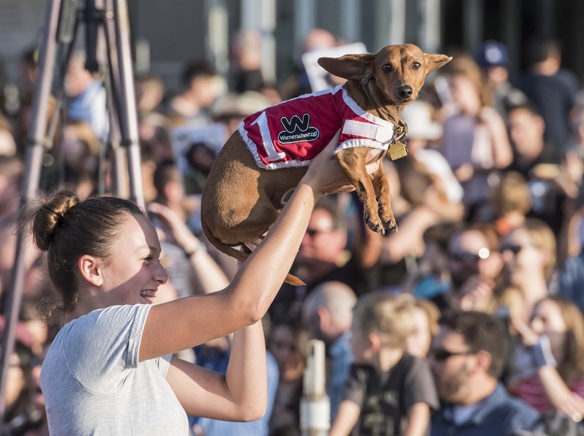 The Wienerschnitzel Wiener Nationals returns to Los Alamitos Race Course for its 23rd running with 12 dachshund races highlight a fun evening at the Orange County racetrack. The Wienerschnitzel Wiener Nationals will get underway at 6:30 p.m. on Saturday, July 21, with proceeds from the event benefiting the Seal Beach Animal Care Center, a non-profit group dedicated to finding home for stray animals in the Orange County area.
The Wienerschnitzel Wiener Nationals consists of 50-yard dashes for dachshunds over the racetrack, the same one where the horses run. Over 80 dogs will compete in the Wienerschnitzel Wiener Nationals with the winners of 10 trial races moving on to the final for a chance to earn cash prizes and the coveted title of "Fastest Wiener In the West." First place prize to the winning owner is $1,000. The champion wiener will also receive a doghouse in the shape of a Wienerschnitzel restaurant plus the "Fastest Wiener in the West" trophy. The pups in action will include defending champion Baby Bo of Tustin, who will race in the 5th race, and 2015 champion Finn of San Clemente. Local doxies in action will include Dixie Cash, owned by Heather Argueta of Los Alamitos, and Coco, racing for Amanda Ortega of Cypress.
This fun event will have all the pomp and circumstance of the Kentucky Derby, including the post parade, call by the track announcer and winner's circle photo. In addition to the fun of the Wienerschnitzel Wiener Nationals, live horse racing will be held in addition to the dachshund races. VIP seating to enjoy the event is available by calling 714-820-2681.  General Admission tickets on the day of the event at Los Alamitos are $3 per person. Children 17 and under are admitted free. Los Alamitos Race Course features free general parking.
The Seal Beach Animal Care Center is also selling tickets to the event for $5 each, with ALL proceeds from the sale of tickets going to the Care Center. The Care Center will also raise money by selling t-shirts at the track on the night of the event. The event has helped raise approximately $260,000 for the Care Center through the years. For more information on tickets for the Wienerschnitzel Wiener Nationals, contact the Seal Beach Animal Care Center at 562-430-4993. For more information on the 23rd annual Wienerschnitzel Wiener Nationals please visit losalamitos.com.