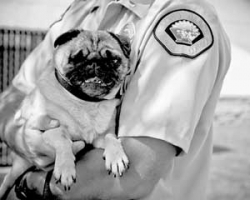 The Seal Beach City Council voted unanimously this week to postpone a decision on a proposed new animal control service contract with the City of Long Beach until "a date uncertain" to examine the contract and other options.
Seal Beach Finance Director/Treasurer Victoria Beatley confirmed that Seal Beach has been paying a 5 percent higher rate for animal control services since Seal Beach received a notice from Long Beach after the fiscal (financial) year began in July 2016. The rate is not based on the Consumer Price Index.
Seal Beach's contract with Long Beach Animal Care Services expired at the end of last July. The proposed new contract between the two cities would, if approved, be back dated to July 1, 2016. Beatley pointed out that revenues from services provided by Animal Care Services, such as pet licenses and fines, are deducted from Long Beach's quarterly invoices to Seal Beach.
The decision to continue the agenda item on the animal control contract came after members of both the public and the council raised concerns about the cost and quality of the service the Long Beach agency is providing.  According to local activist Robert Goldberg, who opposed paying a higher rate, cumulative increases in the contract had increased the money paid to Long Beach 15 percent over the past six years. According to a staff report, the cost would increase by about $7,500 this fiscal year and 0 to 8 percent next year, depending on the Consumer Price Index.
Resident Sharman Snow said the city had been under-served by ACS for years.  Councilman Tom Moore wanted more time to look at the contract. District Four Councilwoman Schelly Sustarsic said she would like to look at other options.District Councilwoman Ellery Deaton told ACS Bureau Manager Ted Stevens that Seal Beach needs more animal control services. She acknowledged that would mean spending more money.