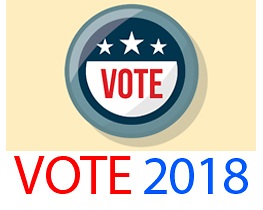 For decades, Orange County had been a reliable bastion of Republican voters in a state dominated by Democrats. But the electorate is changing and so are voting habits, according to the first-ever Voter Data Trends Report released by the Orange County Registrar of Voters last month.
In Orange County, there has been a surge of people ditching the mainstream Democratic and Republican political parties and registering as "No Party Preference" or NPP. Since 2004, there's been a 40 percent increase in the number of NPP voters. The NPP bloc accounts for 27 percent of registered voters countywide. That compares to 35 percent registered as Republicans and 34 percent registered as Democrats.
"Orange County voter demographics have shifted over the past 14 years – and their voting tendencies and behaviors have changed as well," Orange County Registrar of Voters Neal Kelley said in the report.
The same trend can be seen in Seal Beach. Seal Beach currently has a total of 17,462 registered voters. Nearly 22 percent of voters in the city are registered as NPP. That compares to 41 percent who are registered as Republicans and 34 percent registered as Democrats. The remaining roughly 3 percent are registered with other smaller parties. According to the report, while the increase of NPP voters has impacted both mainstream political parties, "there has been a greater reduction in the number of voters who identify with the Republican Party."
More people choose to vote-by-mail
Election Day is Tuesday, Nov. 6, but many voters have already cast their ballots. Usage of polling places has dropped 20 percent on average, according to the report. Part of the reason is an increasing number of voters are skipping the polling place in favor of voting by mail.
In 2010, the percentage of vote-by-mail voters exceeded the number of voters visiting a polling place for the first time in an Orange County general election. In fact, 61 percent of voters in Orange County have opted to permanently vote-by-mail.
More people in Seal Beach are also voting by mail. In the Nov. 2016 Presidential Election most precincts in Seal Beach had more than 50 percent of voters casting ballots by mail. In some precincts, the rate was higher than 75 percent.
Another contributor to the drop in polling place voting on Election Day is the availability of early voting locations.
Orange County is setting up more than a dozen early voting locations before Tuesday's election where you can cast a ballot or drop off your vote-by-mail ballot. The nearest one is located at the Five Points Plaza shopping center in Huntington Beach. For more locations, visit ocvote.com/early.