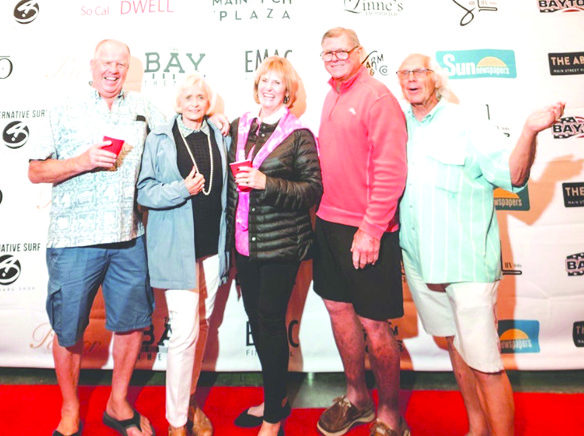 Last Thursday night, May 9, was a special night dedicated to Seal Beach locals!
The 300 Block Nite idea was initially thought of by Bob Griffith, a local business owner and entrepreneur.
The idea came up while he was talking to Natalie Lauren, also an entrepreneur and Co-Lab tenant at Main & PCH who thought that more foot traffic was needed on Main Street.
In hopes to shine some new light on the 300 block of Main Street, support came from many as did the doubts of a few, but when the event started, people came out! People were laughing, smiling, walking in and out of businesses, a festive flow surrounded the block and many were delighted.
The event was new and had charismatic energy, the trees were lit with LED color lights, DJ-D DUB, aka Dave Wrobel, a Seal Beach resident played great hits on the third floor balcony of 328 Main. Also, The Michael Physick Band (Seal Beach residents) performed on the rooftop patio facing Main Street and sidewalks at 350 Main & PCH.
As people walked in, they were greeted with cake and champagne by Cindy Ramirezby, a longtime Seal Beach resident, and actor/executive film producer Paul Bartlau who both dedicated their night to help make the locals feel special.
It was a night that was relaxing, fun and easy going. Families brought their dogs! Kids on scooters! Families with baby's in strollers. People on dates! Grandparents with their grandkids!
A special war hero also attended the event, Spencer Stone featured from "15:17 to Paris, a film by Clint Eastwood, which features the real war heros from a tragic terrorist attack in Paris, attended 300 Nite with close friend and local film maker, Seal Beach resident Gerard Roxbough.
A lobster truck by the name of Cousins Maine Lobster, was brought in for the special event, not to take business away from local restaurants but to add something new and to give folks something different. The lobster truck was tucked in the back parking lot of Main & PCH, in which a red carpet and sign was set on the sidewalk on the 300 Block.
Underneath the Bay Theatre there was also a red carpet and a step and repeat with all the businesses that supported this event and the community.
Working with the locals and the city together knowing both want community thrive has been one of the best parts of this experience, Natalie Lauren said, "I think there's a sweet medium we can reach if we are all willing to be open minded with one another."
The benefits of the event: Locals were able to win great prizes donated by our sponsors, Great foot traffic, the Seal Beach Animal Care Center raised a great amount of money, The Abbey, 320 Main, Bistro St.Germain were packed and overall people had fun hanging out. Locals won a $75 Gift card to Linne's Boutique, limited edition sets of fins from Alternative Surf, roundtrip tickets to Catalina, A $50 gift card from The Abbey, these gifts made people happy! Dojo, Main & PCH, Co-Labs Creative Workspaces, Socal Dwell, EMAC Financial, Pacific Technologies, Soulux Media, The Abbey, Griffith Enterprises, Linnes Boutique, Cindy Ramirez & The Animal Care Shelter and the Sun Newspapers were among the sponsors that made The 300 Block Nite possible.
Lauren is planning to make more events like this possible with the help of the community to help the community thrive from within.