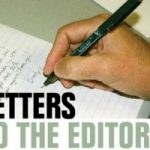 Limit terms for career politicians 
Alan Lowenthal is running for re-election in the 47th Congressional District.  If elected this would be his 3rd term for this office.  He has held political offices for the last 26 years. His son Josh Lowenthal is now running for the State Assembly. I think it's time to elect another candidate to our 47th Congressional District and let Alan Lowenthal go into retirement. John Briscoe would be an extremely beneficial person for the 47th District. With his education and community support background, we can count on his working for the best interests in the 47th Congressional District.
Bill Ruzgis
Explanation requested
Somebody please explain to me how the 911 emergency dispatch system determines that a helpless baby in imminent danger of dying is less important than the life of some jerk huffing a can of aerosol spray.
As reported in the Sept. 13th, crime section of The Sun, a 15-month-old infant was locked in a car at the hottest time of day on the hottest day of the year. Police received this report as a priority 2 incident. Same day, four hours later, police are dispatched to a report of someone semi-conscious who had been inhaling fumes. This call rates a priority 1.
Helping a wannabe junkie is more important than saving a baby in danger of a horrible death?
I just gotta hear the official explanation on this one!
Mike Levitt
Seal Beach Leisure World