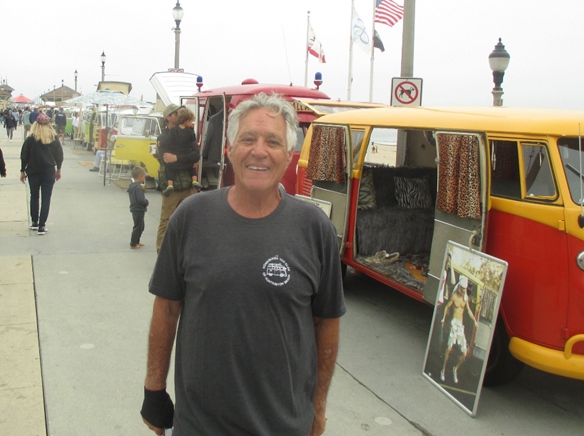 The Huntington Beach International Surfing Museum and Don Ramsey, founder of the Kowabunga Van Klan, held their 8th Annual VW Van Show on Pier Plaza and the Huntington Beach Pier last weekend. These vans are valued between $70,000 and $1.2 million, Ramsey said.
"The VW Community is solid and we love it in HB," said Ramsey, a member of the popular Ramsey Brothers Band. "From baby boomers to the kids of today, the VW Bus is a reminder of great times that we have had and adventures to come."
"This fun show is nostalgic and brings you back to the 1960s," said Brian Cizek, manager of the Pier's Surf City Store. "It's full of goodtime vibes."
"No place on earth has a cooler car show than the Kowabunga Van Clan's Busses on the Pier! Hundreds of amazing busses line the iconic pier to enjoy a day of sunshine and surf! Tens of thousands of visitors proved there's no place like HB for Cool! Great job Don Ramsey!" said John Etheridge, president-elect of the Kiwanis Club of HB.
Sponsors Included: Rockin Fig Surfboards, Duke's Huntington Beach, McKenna VW Car Dealer and The Sugar Shack. The Kowbunga Van Klan mission is to connect people whose lives were touched by the lovable, memorable and classic Surf Van–the VW Bus.
You can learn more on The Kowabunga Van Klan at Instagram and Facebook, using KVKHB.